Mini Aussies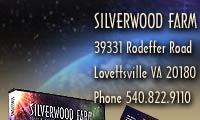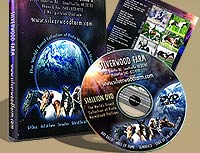 Click on DVD to order your stallion packet on line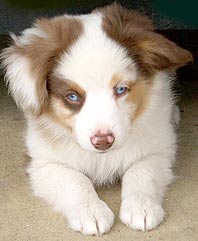 Britches Sold congrats Eva and Sam!
Red merle male, super coloring and 2 blue eyes. Very outgoing and super coat on him.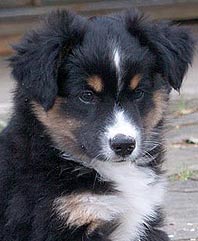 Blaze
Sold - congrats Sara and TK!
Black Tri Male, great copper and even white markings, looks a lot like his father. This guy has personality plus!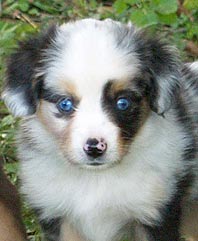 Girl
SOLD - Congrats Sonja!
Blue merle girl, super cute and very nice coloring. She has two bright blue eyes and is a sweet heart!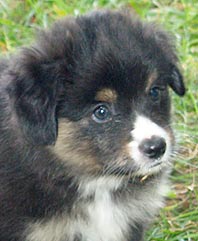 Bear Bear
SOLD
Black tri male, nice copper nice even white markings. Has a lovely thick coat and is the cuddle bug of the bunch - my daughters favorite.

$700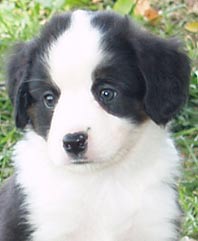 Big Z
Sold congrats to Andy and Michele!
Black Tri Male, even white markings and copper. Very out going and loves to have his belly scratched.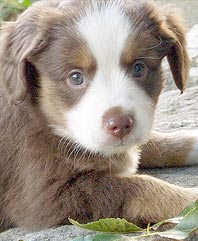 Red
Sold congrats to Jeff & Debbie!
Red Tri Male, really nice markings, super copper. Smallest male of the litter will probably mature around 12"-13" Very smart little guy!


We will be repeating this cross in the future - stay tuned!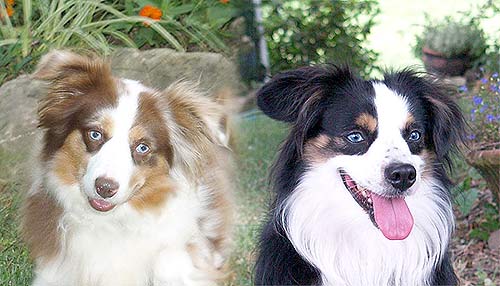 Sunflower Camouflage x White's Texas Diesel
6 puppies born 9/11/2012 - 5 boys and 1 girl

Sire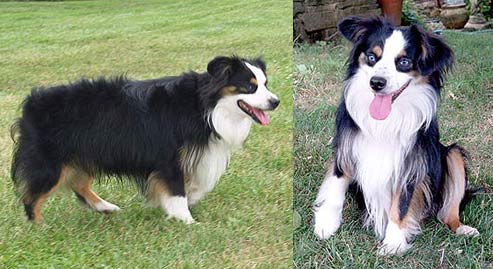 Diesel; 13" Blue eyed black tri
White's Texas Snickers x White's Texas Bailey
Owned by: Christen Wicker Lambert

Dam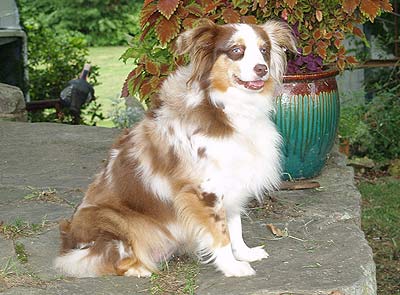 Sunflower Camouflage; 14" Blue eyed red merle
Schuete's Tre x Circle M Dusti Schurtz
Owned by: Elizabeth Potter Hall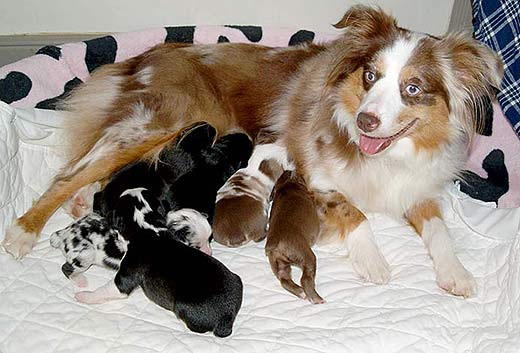 Our first litter of Mini Aussies!
Mini Aussies/Miniature Australian Shepherds are as their names imply a scaled down version of a standard size Australian Shepherds. Mini's are wonderful, intelligent dogs that make excellent companions.

Size wise these guys shouldn't get any taller then 14" they are stocky with super bone, so mature weight will probably be around 18-20 lbs.

Puppies have had tails docked and dew claws removed will be up to date on all vaccinations and parasite prevention/control. These puppies are handled daily and are not kennel dogs, they are in the house with us and our other animals, they will be very well socialized!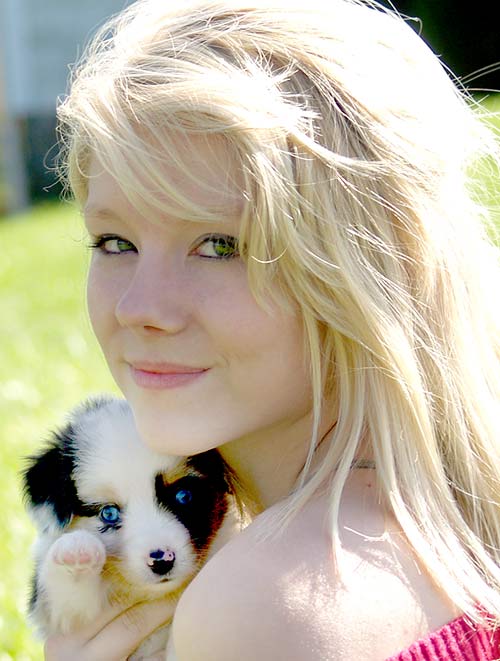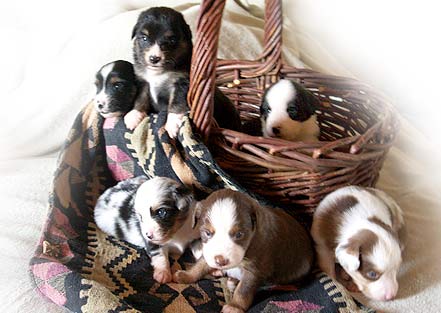 ---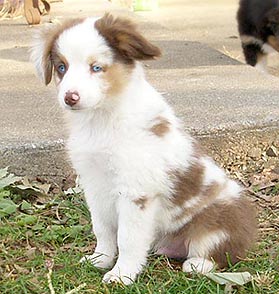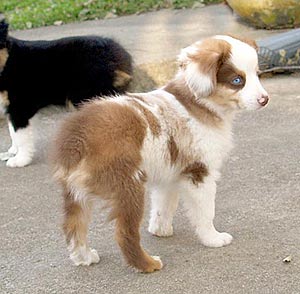 Above photos taken at 8 weeks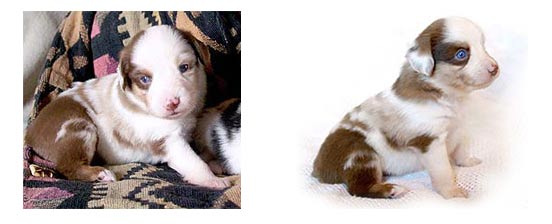 Above photos taken at 2 and 3 weeks
---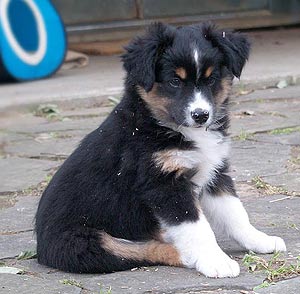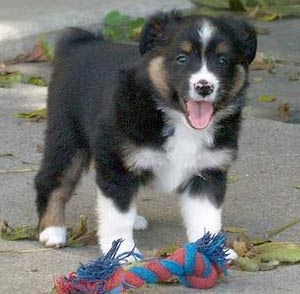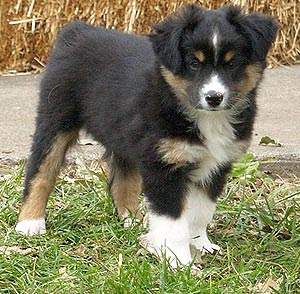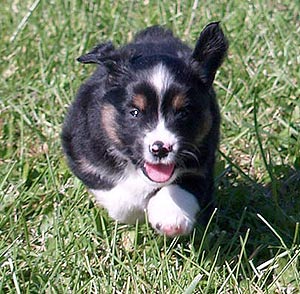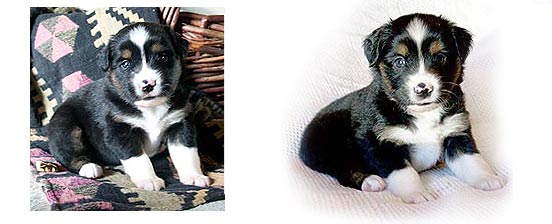 Above photos taken at 2 and 3 weeks
---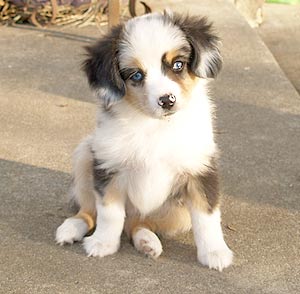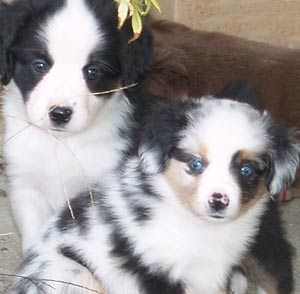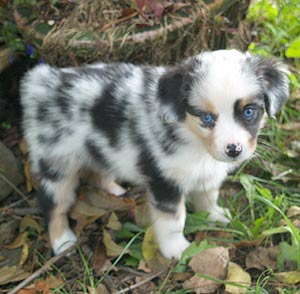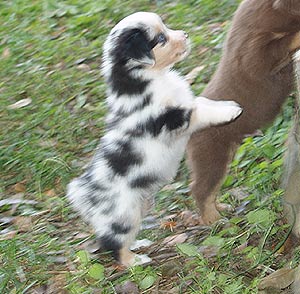 ---
Updating page will be adding others photos soon!
---
---
We will do deposits and can except all major credit cards or paypal.