Offered for sale will continue to be stood at stud until sold

State of the Art "Sota"-we pronounce it like soda, is an outstanding son of Art Deco and one of the few Homozygous (100% Pinto color GUARANTEED) Pinto Warmbloods crosses in the world. He is a stunning black and white tobiano pinto. He has three excellent gaits and wonderful jumping abilities. His dam Going Diamond is a wonderful Thoroughbred Paint cross. She has fox hunted for a number of years carrying both masters and beginners safely over the huntfield. She has shown in hunters and jumpers successfully and currently in her early twenties is showing in dressage and eventing with a B rated pony clubber.

State of the Art, with limited showing has pinned with top ribbons in Dressage and has competed successfully in jumpers, eventing and hunters. We plan to show him in multiple discipline because he is such an athletic individual with a can do attitude.

Weanling colt out of TB mare by State of the Art
State of the Art first few foal crops are proving to be outstanding out of a variety of mares and of course they are all pintos. He has a large return of satisfied customers who breed year after year. His offspring are just now starting to show in dressage, hunters, jumpers and eventing they are showing outstanding talents and promise.

State of the Art is also nominated to the Arabian Horse Breeders Sweepstakes. State of the Art is a wonderful cross with Arabian mares adding size and substance yet the offspring do not lose the elegant qualities of their Arabian lineage.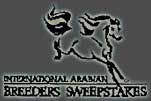 Arabian Mare Owners take note:
State of the Art is Nominated to the
IAHA BREEDERS SWEEPSTAKES



Do you want to get competitive with your Sporthorse or half Arabian Sporthorse breeding program? This is an excellent opportunity for the serious Sporthorse breeder to acquire a Nationally known stallion who breeds a large book of mares yearly. State of the Art has a loyal clientele, with repeat breeders year after year. He is a solid business investment, he is nominated to the Breeders Sweepstakes and is becoming more and more popular with Arabian mare owners. His offspring have size, substance, yet are very elegant, wonderful movement, temperament and are all PINTOS

Price upon request, serious inquires only please - will only be sold to a capable facility who can accommodate his clientele, breeding obligations and who will continue promoting this outstanding stallion.

See more of State of the Art on his Photo Album page
Show highlights for stallions and offspring click here
Registration/registry, contacts & information on the stallions offspring. Click here