Apollon is an achiever of a stallion in an exquisite jacket and blessed with incredible movement.
After passing his grading in Denmark APOLLON was originally used at stud there. After winning his stallion testing at Vilhelmsborg 1989 this stallion combined a stud duties with a highly successful competition career, winning not only Dressage and Showjumping to M level, but also M Eventing.
Because of his quality as stallion he was awarded the Gold Medal as best Knabstrupper stallion at the 1990 Danish Agriculture Fair (equivalent with the German DLG), a rare and distinguished achievement for any horse, let alone a spotted one.
In 1995 Apollon appeared on the German Scene and promptly won Premium graded status at the ZfDP grading in Lentföhrden.
Just a glance at his pedigree shows that his ability and versatility haven't happened by accident.
His sire ZORRO is a Knabstrupp of the modern Sporthorse type and himself a descendant of the famous Arab stallion POMERANETS OX, who also sired the stallion Hockey II (sire of the international star Showjumper Almox Prints J). APOLLON's dam SYMFONI is superbly bred Trakehner mare by DONAUSCHIMMER, combining such illustrious lines as ABGLANZ and POET XX. A couple of generations back we find the highly rated GUNNAR and the great grandmother SONETT, who produced the famous Trakehner Hessenstein and via him influenced an entire generation of horses.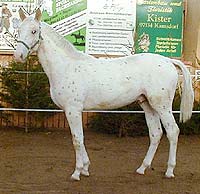 Apollon Colt - Agamemnon,
Palomino Leopard German WB
Owned and Imported to USA
by Kelly Kay-Truxillo


APOLLON himself has already sired nine graded stallions and further proved his
importance as a sire with several of his state-premium daughters.
Awarded ZfDP Approval for Warmblood Breeding because of his outstanding record as a sire, APOLLON is currently the only leopard spotted stallion with this approval worldwide.