Spectrum, we are very proud to be able to offer him at stud in. We are excited because this allows us to offer an excellent out cross to all those outstanding offspring by: Art Deco, Hall of Fame, State of the Art and other Samber line mares. We will be offering 50% off his stud fee to any mares of the Samber line i.e.: Art Deco, Hall of Fame, State of the Art, Fine Art, Domino, and Sons of the proceeding stallions.

Spectrum is an outstanding Oldenburg, he is *ISR/OLD premium rated and branded foals by Rainbow. Rainbow is branded/registered ZfDP horse imported from Germany and had an impressive score in his 100 day testing which earned him class 1 rating for the testing. He has competed successfully in jumpers L & beginning M levels (= to our schooling & low prelim levels) and dressage (= to our 1st level) in his region in Germany. Spectrum's dam has very impressive bloodlines. Allouette combines "some of the most famous and successful breeding stallions Germany ever had: Gotthard, Cardinal xx, Argentinus, Absatz, and Furioso II. Allouette has produced all premium foals. Spectrum is destine to carry on his outstanding lineage.
Spectrum has been Approved by the Oldenburg Verband/The Oldenburg Horse Breeder's Society and was licensed Rheinland-Pfalz-Saar International in 1999. He has three impressive gaits and is showing us what an outstanding jumper he is. With a limited amount of jumping work he shows tons of scope and a keen attitude over fences. We are just beginning his dressage showing and jumping show career now and he has a wonderful temperament, very willing in all that we have asked of him. He is currently Premium registered with Old/ISR, American WB Society and Pinto Horse Assoc.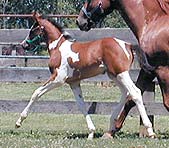 Spectrum's first foal crops have been outstanding, with a huge return of repeat breeders. His foals have incredible temperaments, very sweet and inquisitive. They are correct and excellent movers. One of his foals was in the top 5 for RPSI in 2001 and the jury wants him to be a future stallion candidate. With three foal crops Spectrum is averaging about 75% pinto colored foals I have been absolutely thrilled with my Spectrum foals, they can been seen on our 2000-03 foals pages.

See more of Spectrum on his Photo Album page
Show highlights for stallions and offspring click here
Registration/registry, contacts & information on the stallions offspring. Click here